Our Holy Father Pope Francis declared a Holy Year of St. Joseph to be celebrated world-wide from December 8, 2020 through December 8, 2021.
DIGNITY OF WORK VOCATIONS SERIES
As the universal Church prepares to conclude the Year of St. Joseph on December 8th, contemplation of the carpenter and foster father of Jesus provides an opportunity to reflect on the value and dignity of work. The stories featured in the Dignity of Work series represent personal reflections from members of the lay faithful engaged in various types of work, as a source of meaning and fulfillment in their lives.

Josette Peckman, Nurse
Josette Peckman knew from a young age that she wanted to pursue a career in nursing. "I said it for the first time at my Kindergarten graduation,"    she said. "God called me to it, and I was always aware of it."   Read more of Josette's Vocation story by clicking here.
Kathleen Chovanes, Mother
As many parents can likely relate, Kathleen sometimes wrestles with her ability to feel productive throughout the day. "It's easy to feel like you're doing the same thing every day and none of it really matters," she said. "But what more important work is there?"  Read more of Kathleen's Vocation story by clicking here.
Brett Kita, Pilot
With the help of a spiritual director, Brett worked to decide between two careers.  "Sometimes God speaks to us through enthusiasm and that's how you know how to pursue that direction." Read more of Brett's Vocation story by clicking here.
Rene Berkhammer, Teacher
Rene has always had a passion for teaching special education and she finds it rewarding to blend her enthusiasm for teaching and her Catholic values at John Paul II Center in Berks County.  Read more of Rene's Vocation story by clicking here.
Msgr. Tom Orsulak, Pastor
Monsignor feels a strong connection between his personhood and his vocation and feels strongly that both influence each other.  Read more of Monsignor's Vocation story by clicking here.
John Fierro, Director
As a former recipient of scholarship funds to attend Catholic school, John now enjoys his vocation and helping other families make Catholic education possible for their children. Read more of John's  Vocation story by clicking here
Sr. Martha Zammatore, Nun
Some burned cookies helped spur on the beginning of Sister Martha's vocation story.  Now she leads prison ministry and brings inmates her joy for the Lord.  Read more of Sister's Vocation story by clicking here.
Darren DeArment, Librarian
As an early lover of books, Darren felt called to give the gift of reading to others and now finds joy in the role of mentor to those he encounters.  Read more of Darren'ts Vocation story by clicking here.
NOVENA PRAYER TO ST. JOSEPH
As we prepare to conclude the Year of St. Joseph on December 8th,we share the St. Joseph novena so that pray as one family of faith.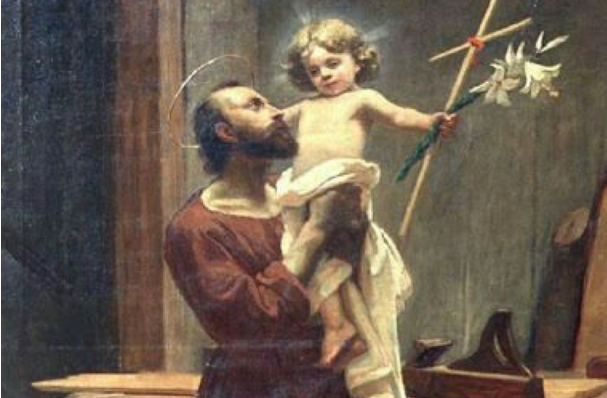 St. Joseph, by the work of your hands and the sweat of your brow, you supported Jesus and Mary, and had the Son of God as your fellow worker. Teach me to work as you did, with patience and perseverance, for God and for those whom God has given me to support.

Teach me to see in my fellow workers the Christ who desires to be in them, that I may always be charitable and forbearing towards all. Grant me to look upon work with the eyes of faith, so that I shall recognize in it my share in God's own creative activity and in Christ's work of our redemption, and so take pride in it.

When it is pleasant and productive, remind me to give thanks to God for it. And when it is burdensome, teach me to offer it to God, in reparation for my sins and the sins of the world.

O good father St. Joseph! I beg you, by all your sufferings, sorrows and joys, to obtain for me what I ask.

(Name your petition)

Obtain for all those who have asked my prayers, everything that is useful to them in the plan of God. Be near to me in my last moments that I may eternally sing the praises of Jesus, Mary and Joseph.
Amen.

Recite one Our Father, Hail Mary, and Glory Be.
​*Prayer taken from Religious Brother's Day Guide booklet*
Apostolic Letter Patris Corde of His Holiness Pope Francis 
Gift of Indulgences for the Year of St. Joseph 
Special Events for the Year of St. Joseph
May 11, 2021 | 7:00 PM | Webinar with Fr. Boniface Hicks, OSB
Recommended Formation Resources for the Year of St. Joseph