As the universal Church prepares to conclude the Year of St. Joseph on December 8th, contemplation of the carpenter and foster father of Jesus provides an opportunity to reflect on the value and dignity of work. The stories featured in the Dignity of Work series represent personal reflections from members of the lay faithful engaged in various types of work, as a source of meaning and fulfillment in their lives.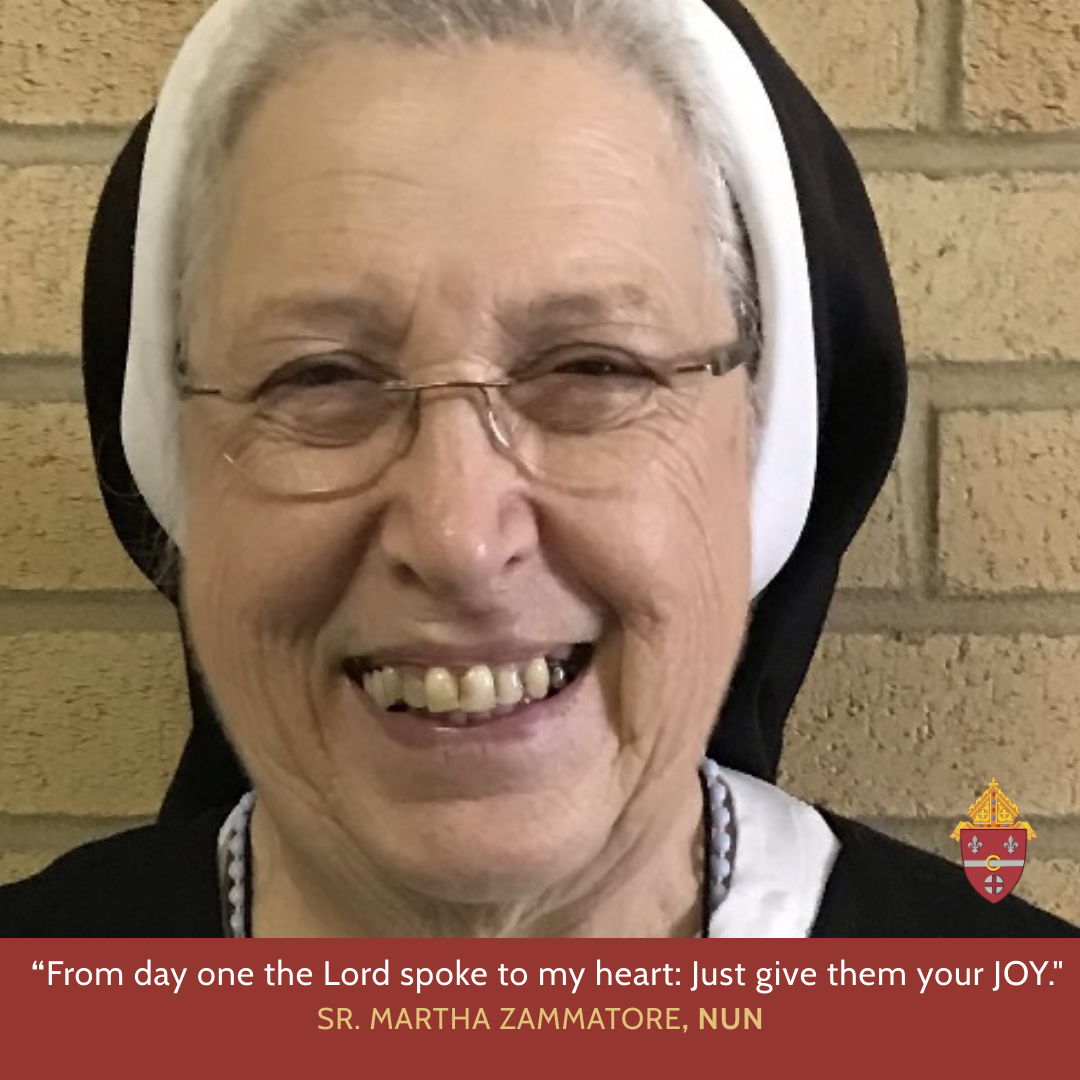 The first stirrings of a vocation to the religious life struck Sr. Martha Zammatore at her parent's  mom-and-pop grocery store. Every once in a while two sisters of her future religious congregation would stop by the store.  She recalled. "I was filled with joy to see the sisters. I didn't yet know what was going on in my heart."
In her early teens, a friend invited Sr. Zammatore to a novena to the Miraculous Medal. Sister didn't know what a Novena was since she went to public school.  She continued to feel drawn toward a religious vocation. A memorable moment in her discernment came when she was baking cookies with her family and burned a batch of Easter cookies.
Sister Martha recalls "My mom said, 'You'll never be a housewife,' to which I replied: 'Maybe I'm not going to be a housewife.'  My sister asked, 'What are you going to be….a nun?' The rest is history."
Sr. Zammatore's calling to Prison Ministry was accompanied by a similar sense of peace and certainty. When she was asked to begin visiting individuals in county and state correctional facilities, she approached the new endeavor with confidence.
"I had no doubt in my mind that it was going to be a perfect fit," she said. "People sometimes ask me if I'm afraid. From the day I started, I've never been afraid. From day one the Lord spoke to my heart:  Just give them your JOY".
When Sr. Zammatore visits prisons, she enjoys greeting everyone and offering each and every one God's blessing.  They ask for a Rosary and she joyfully gives them one, teaching them how to pray it and the Divine Mercy Chaplet . Teaching prayer to the people she ministers to in prison has also strengthened her own prayer life.
"The more I pray, the more it purifies me.  As I experience in my own life the power of prayer, I can express with certainty the importance of prayer in these lives, once broken but with the Light that through prayer they will have the strength to begin anew, or reach out to help their loved ones who are also suffering the separation, or in need of healing.  I witness to 'Our Father' who IS love and mercy." 
The meaning Sr. Zammatore finds in her vocation often comes in the form of mercy. "The more I talk about mercy, the more I have to live mercy," she said. "The door to Heaven is open to all of us, but we have to forgive."
For Sr. Zammatore, ministering to the incarcerated through the lens of mercy means reminding them that God has given them a new start and that they are not defined by their past.
"Whatever you did, that's not you. That's not the 'you' that God created, and He's giving you another chance," she said. "Make a good confession, ask forgiveness of God, and begin a New Life. Every day is a new day."
Sr. Zammatore sees the fruit of her ministry when those in prison begin praying and receiving the sacraments. She offers a simple word of advice to all who participate in her ministry: "The first thing you need to do is to go to confession, go to Mass, and be faithful to prayer. If you want to find the way, you have to stay with Jesus."
 "During this Diocesan "Year of the Real Presence" it's given me particular Joy, and again, personal growth, in sharing with the men I minister to, the AWESOME Gift of the Holy Eucharist.  Right now, the inmates still anxiously awaiting the day they will have Mass and the possibility to go to Confession.  I'm grateful for the hunger they feel and longing for that day to come soon.  Please pray that very very soon, they will once again enjoy what we often take so much for granted."