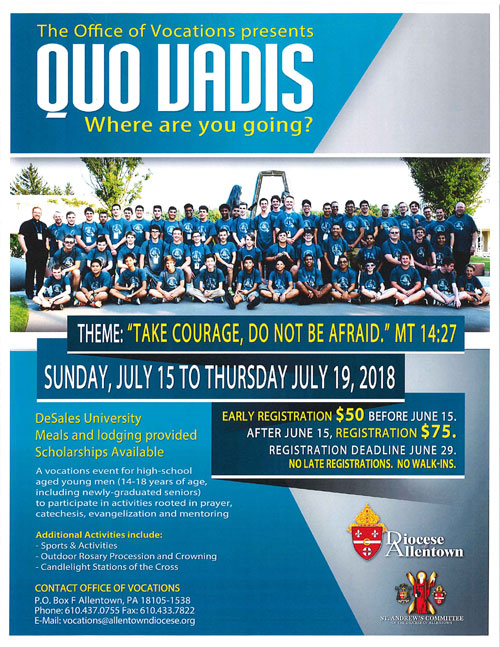 Theme for 2018
Take Courage, Do Not Be Afraid (Mt. 14:27)
Date
Sunday, July 15 through Thursday, July 19, 2018
Location
DeSales University, Center Valley, PA
Purpose
The Vocations Office of the Diocese of Allentown provides opportunities rooted in prayer, catechesis, evangelization and mentoring while offering an invitation to young men to discern.
Participants
14 to 18 years of age (including newly-graduated seniors)
Fee
Early registration is $50 before June 15.  After June 15, registration is $75.  Registration deadline is June 29.  No late registrations, no walk-ins. 
Includes
Meals provided by DeSales Dining Services, T-shirt, backpack, water bottle and other materials.
Lodging
DeSales
Registration Information
Get the registration and general information forms by clicking on the link under Resource Links.
Fill it out and send with your payment to:
ATTN:  Quo Vadis / Fiat Days
Diocese of Allentown
Office of Vocations
P.O. Box F
Allentown, PA 18105-1538
Before June 15 - $50.  After June 15 - $75.  Deadline June 29.  No late registrations, no walk-ins.