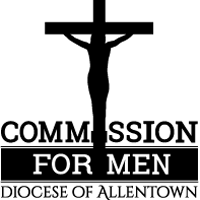 The Holy Spirit is moving among Catholic men in a special way. Over the past years, all across this country there has been a steady rise of local Catholic men's groups This is a living testament to this powerful action by the Holy Spirit. Through these groups, Catholic men are building strong relationships, learning how to pray for one another, and finding the support they need to thrive in today's challenging culture. The expansion and continued success of these groups is critical to the future of our Church.
Catholic Men's Groups within the Diocese of Allentown:
St. Joseph the Worker, Orefield
Saturday Morning Men's Group
Contact: Mike Tully  mtully@groupspi.com
Notre Dame of Bethlehem, Bethlehem
Men's Group
Contact: Dennis Campbell  campbed4@gmail.com; (267) 252-8015
Catholic Men of Good News (C.M.O.G.N.)
Meets at the following locations:
Christopher House, Kutztown University
Contact: Fr. Rich Brensinger (610) 683-8467
Sacred Heart, Palmerton
Contact: Ed Sidleck  sidleck@icloud.com
Grupo Regional de Hombres
Meets monthly at different parishes in the Hispanic apostolate in the Lehigh Valley:
St. Paul, Sacred Heart, Our Lady Help of Christians, Allentown
Holy Infancy, Bethlehem
Our Lady of Mercy, Easton
For more information contact The Office of Hispanic Affairs at (610) 289-8900, Ext. 2034
Queenship of Mary, Northampton
Men's Group
Contact: Deacon Mike Donscecz (610) 262-2227
St. Ignatius of Loyola, Sinking Spring
The King's Men
Contact David Ross  david@aigltd.com; (610) 775-3848, Ext. 206
St. Ann, Emmaus - MOSAIC (Men of St. Ann in Christ)
Contact: Mike Luciano  mluciano@ptd.net; (610) 965-2140
St. Patrick, Pottsville
Men's Group
Contact: John Sutter  john.sutter.520@gmail.com
St. Theresa, Hellertown
That Man is You Men's Group
Contact: Curt Fitzgerald  curt.fitzgerald@gmail.com; (215) 353-7726
Holy Family, Nazareth
Men's Group
Contact: Jon Schultz  jhschultz@msn.com; (484) 505-6378
St. Jane Frances de Chantal, Easton
Men's Group
Contact: Rick Arlotto  arlottorc@gmail.com
St. Thomas More, Allentown
Men's Group
Contact: Mike Barski  mjpbarski@gmail.com; (484) 201-1173
St. John the Baptist. Pottsville
Men's Group
Contact: Fr. David Loeper  (570) 622-5470
St. Mary, Kutztown
Men's Group
Contact: John Tucker  jptucker2@verizon.net; (610) 509-3791
Cathedral St. Catherine of Siena, Allentown
Men's Group
Contact: Andrew Ivankovits  andrew.ivankovits@gmail.com
Annunciation B.V.M., Catasauqua
Men's Group
Contact: Fr. John Krivak  (610) 264-0332
Immaculate Conception, Douglassville
Esto Vir Men's Group
Contact: Victor Gonzalez victor@estovircmg.org; (484) 366-1417; www.estovircmg.org
Process for Starting a Local Catholic Men's Ministry
1. Find a meeting place, if you want to have it at your parish contact your pastor and ask for a meeting room. Let him know you want to start a parish men's group in your parish. But please make sure to let him know that this is not something he has to now add to his already busy workload.
2. Invite Catholic men to attend a first meeting to have a short period of fellowship, have someone give a testimony, if possible someone who attended a conference or has been part of a men's group. Discuss and decide when and how often they want or meet. Post announcements in Sunday bulletin.
3. Pray for the guidance of the Holy Spirit to direct your efforts, trust in the divine providence and be committed.
Still need more help? Contact Rick Dooley, Secretariat for Catholic Life & Evangelization, Diocese of Allentown, 610-289-8900 Ext. 2027