At the present time, the Diocese of Allentown sends its seminarians to St. Charles Seminary in Philadelphia, Pennsylvania. At this beautiful and historic seminary our seminarians receive an orthodox and balanced formation needed to be good and holy Priests. Attending the seminary with their diocesan brothers as well as with seminarians from over 20 different dioceses, they grow in fraternal bonds that will last a lifetime. Since the Seminary is only one hour away from Allentown, the seminarians can easily return home on breaks to visit with their families and even are able to experience their apostolic formation in sites within the Diocese of Allentown.
Click here to visit the St. Charles website
ST. CHARLES SEMINARY APPLICATION
St. Charles Theologate Division of the Seminary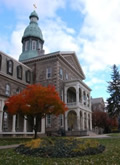 The formal application process begins after you have met with the Diocesan Vocation Director who makes sure that all the initial requirements are in order. Then the process of obtaining sponsorship by the Diocese of Allentown begins. The Diocesan Vocation Director goes through the process with you of filling out all the necessary paperwork and will guide you in obtaining the letters of recommendation, transcripts, medical exams etc. that are needed before your formal interview. Upon acceptance by the Bishop of Allentown, you would be considered a seminarian of the Diocese of Allentown. The next step is admission into the formation program at the seminary. The seminary formation staff will review all your records and determine your suitability for the seminary program. This whole process is completed with prayer and diligence for the good of the Church and the good of the applicant.