As the universal Church prepares to conclude the Year of St. Joseph on December 8th, contemplation of the carpenter and foster father of Jesus provides an opportunity to reflect on the value and dignity of work. The stories featured in the Dignity of Work series represent personal reflections from members of the lay faithful engaged in various types of work, as a source of meaning and fulfillment in their lives.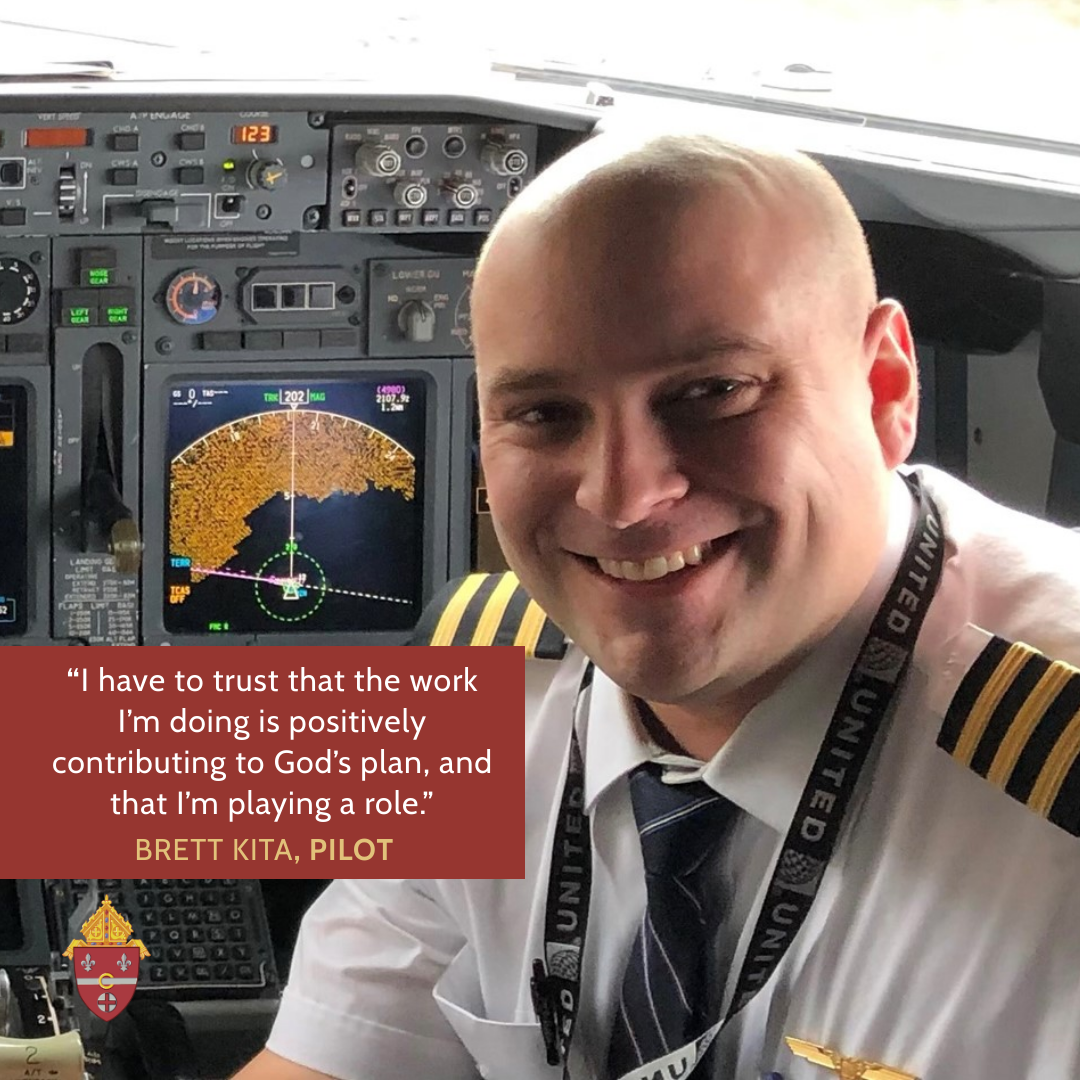 Brett Kita's passion for aviation dates back to his childhood. When his family would go on vacations, he often looked forward to the flight as much as to the trip itself.
"I was excited to know that the plane could take me, in just a few hours, to a place that was new and foreign to me," he said.
While he was always interested in flying and travel, Brett's path to becoming a commercial airline pilot included prayer and discernment.
"A spiritual director helped me to get on this path," he recalled. At the time, Brett was deciding between two career alternatives, and his spiritual director asked him to describe the two options and what he thought he would enjoy about each one. It was through this exercise that Brett received his answer: "one path brought out no excitement, but talking about aviation made me light up."
"Sometimes God speaks to us through enthusiasm, and that's how you know to pursue that direction," he said.
When Brett reflects on his work, he need not look far to find the impact he has on the lives of others.
"I'm connecting people," he said. "Everyone on the plane has a unique and fascinating story – maybe they're going to a job interview, or they're a soldier coming home from a tour of duty, or grandparents meeting a new grandchild for the first time. Most of the time, I'll never know what their stories are, but I'm helping them by getting them from Point A to Point B."
Brett's role as a pilot has taken on additional meaning for him following the COVID pandemic, which left many people unable to visit loved ones for extended periods of time.
"We were left to communicate through electronic means, but when it comes to the people we care about most, being with someone in person cannot be replicated on Zoom."
In addition to connecting people with their loved ones, traveling for work has helped Brett to appreciate his relationship with his own friends and family.
"The challenge comes with missing holidays and special occasions at home," he said. "While it can be fun to experience Christmas in different cities, it is difficult to be away from family."
Ultimately, Brett views his work as participation in God's plan for his life and the lives of others. "I have to trust that the work I'm doing is positively contributing to God's plan, and that I'm playing a role," he said. "I think that God has blessed each of us with certain gifts and talents, and I hope that I'm utilizing mine in the way that He wills it."
Do you have a call to your vocation you would like to share?  Email us at communications@allentowndiocese.org.