As the universal Church prepares to conclude the Year of St. Joseph on December 8th, contemplation of the carpenter and foster father of Jesus provides an opportunity to reflect on the value and dignity of work. The stories featured in the Dignity of Work series represent personal reflections from members of the lay faithful engaged in various types of work, as a source of meaning and fulfillment in their lives.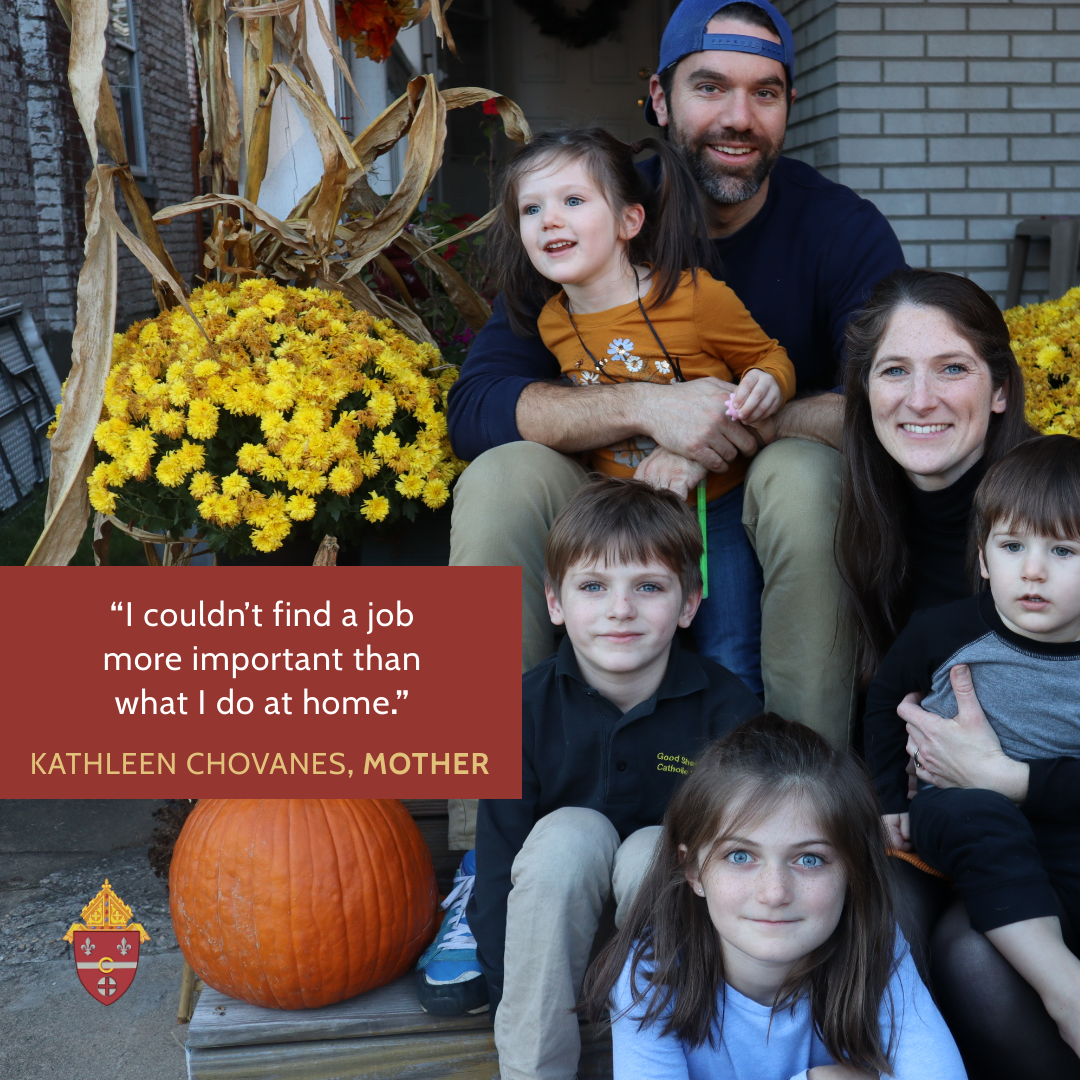 When Kathleen and Michael Chovanes welcomed their first child in 2013, they both worked in full-time ministry at a Catholic parish near Philadelphia. Kathleen was grateful for a family-friendly arrangement that enabled her to bring their children to the office, but after their second baby arrived, she began to feel pulled toward staying home to raise their growing family.
"I had the best of both worlds, but also the worst of both worlds," she said. "I felt caught between focusing on work and ignoring my babies, or vice versa." Shortly thereafter, Kathleen took a leap of faith that resulted in her becoming a stay-at-home mom, and Mike accepted a new job that enabled him to provide for the family.
"You never know how God will show up when you really surrender," said Kathleen.
Today, Kathleen cares for their four children full-time. While her days are full and sometimes tedious, she finds the challenges of full-time motherhood to be sanctifying.
"The value that I find is that it's not easy, but it's making me a better, holier person," she said. "Motherhood has made me focus on how God brings so much beauty out of suffering. The constant dying to self is a massive good."
As many parents can likely relate, Kathleen sometimes wrestles with her ability to feel productive throughout the day. "It's easy to feel like you're doing the same thing every day and none of it really matters," she said. "But what more important work is there?"
When Kathleen reminds herself of the care she provides for her children each day, she need not look far to find the value of her work. "If you take those things out of the equation and imagine a child who doesn't have those basic essentials provided for them, that has a negative effect on how they grow and develop," she reflected. "Motherhood is the most important job. The challenge is reframing my mindset around that, and catching myself in the lie that I haven't done anything all day."
When it comes to Kathleen's work, she is clear on her purpose: "What's my number one job as a parent? To help my kids get to Heaven," she said. While she helps her children to succeed in school and reach other milestones, she views her role as being centered on passing down the Catholic faith to her family.
While Kathleen admits that full-time parenting is "not for the faint of heart," she views her work through the lens of the long-term value it brings. "If I fail at raising my children to the best of my ability, then I fail at sending out future saints into the world," she said. "I couldn't find a job more important than what I do at home."
Do you have a call to your vocation you would like to share?  Email us at communications@allentowndiocese.org.