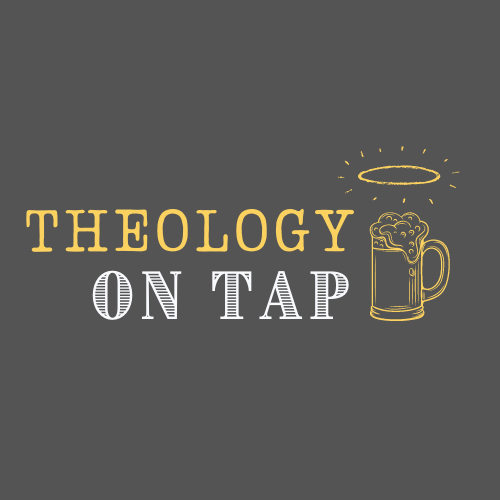 Theology on Tap is a speaker series for young adults on matters of the Catholic faith.  Young Adults gather together in a relaxed setting either in a restaurant or bar to enjoy the speaker's presentation, learn more about their faith, and to engage in meaningful conversation.  Theology on Tap is held on the third Monday of every month at various establishments around the Diocese.
Questions?  Contact Rob Johnson at rjohnson@allentowndiocese.org
UPCOMING EVENTS

Come pour out the spirit and enjoy an evening of fellowship, libations, and reflections on living the Catholic faith.  Father Giuseppe Esposito will be speaking about Advent and playing his guitar to lead a Christmas sing-a-long.  No RSVP necessary.

COVERAGE FROM PREVIOUS THEOLOGY ON TAP EVENTS:
August 2019 - From Islam to Christ - Derya Little
July 2019 - The Five Keys to Freedom - Meghan Cokeley
June 2019 - The Lost Art of Listening - Rev. Arthur Purcaro
May 2019 - Gender and God's Plan for Humanity - Sr. Geralyn Schmidt
April 2019 - The Life & Works of C.S. Lewis - Sr. Sheila Galligan
March 2019 - Why Stay in the Church? - Dcn. Tony Bellitto
January 2019 - Responding to Relativism - Dr. Michael Rombeiro
December 2018 - From Federal Government to Full-Time Ministry - Dcn. Michael Pascarella
November 2018 - Keys to a Powerful Prayer Life - Eva Gontis
September 2018 - Stories of a Basketball Chaplain - Rev. Robert Hagan
August 2018 - Everyday Holiness - Rev. Daniel Arechabala
July 2018 - The Emotions of Jesus - Kelly Anderson
May 2018 - The Discernment of Spirits - Rev. Christoper Walsh
April 2018 - Delving into Salesian Spirituality - Rev. Timothy McIntire & Magdalene Riggins
March 2018 - Finding God in a Broken World - James Doolin
February 2018 - Protecting the Pope - Rev. Frederick Riegler
January 2018 - The Catholicism of J.R.R. Tolkien - Rev. Christopher Landis
November 2017 - Working Beside a Saint: Stories of St. Teresa of Calcutta - Msgr. Michael Mannion
October 2017 - You Are Littler: Encounters with St. John Paul II - Maria Mitchell 
September 2017 - Faith on the Job: Maintaining Values in the Workplace - Bob Wert
August 2017 - Faith on the Job: Maintaining Values in the Workplace - Mike Guman
July 2017 - Faith on the Job: Maintaining Values in the Workplace - Deacon Hugh Carlin
June 2017 - Faith on the Job: Maintaining Values in the Workplace - Joseph Zator