A community of Catholic women invite all women who are committed to raising awareness and funds to aid non-profit ministries endorsed by the Diocese of Allentown in imitation of the life of St. Catharine of Siena.  By joining together in the collective giving and personally selecting the recipient ministries, women will have a personal impact on those among us in need.
The Catholic Women's Society of Giving is very pleased to invite funding requests in support of community service, outreach programs, projects, and organizations whose operations and activities are consistent with Gospel values, the teachings of the Catholic Church, and the stated mission and purpose of the Diocese of Allentown. 
Join us for our next event! 
Peace, Joy....Advent!  Join us for this FREE event with inspiring talk followed by Mass with Bishop Schlert on December 11, 2021 at 9:00 AM at St. Mary's Church in Kutztown, PA.   Maggie Riggins will be our Guest Speaker as we come together to learn, laugh, and lead in the Diocese of Allentown.
RSVP by emailing stewardship@allentowntowndiocese.org or by calling 1-800-831-4443.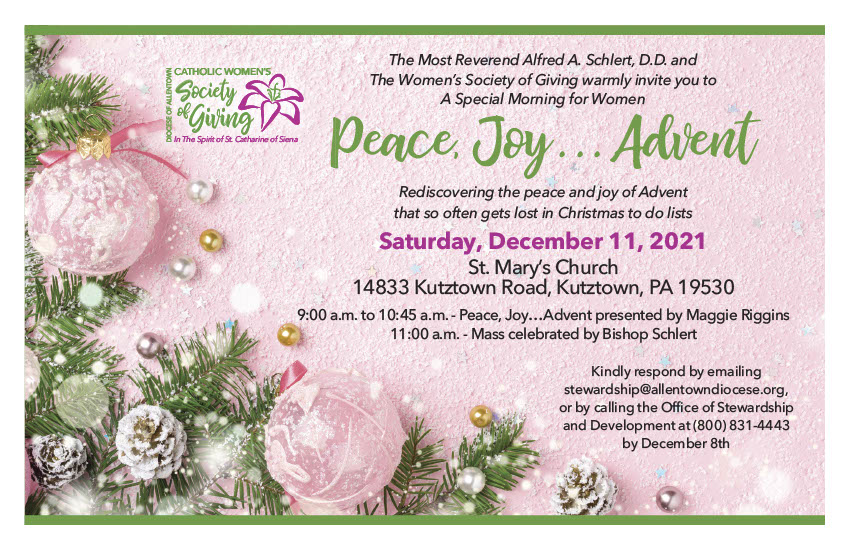 To become a member of the Catholic Women's Society of Giving, please fill out the form below.