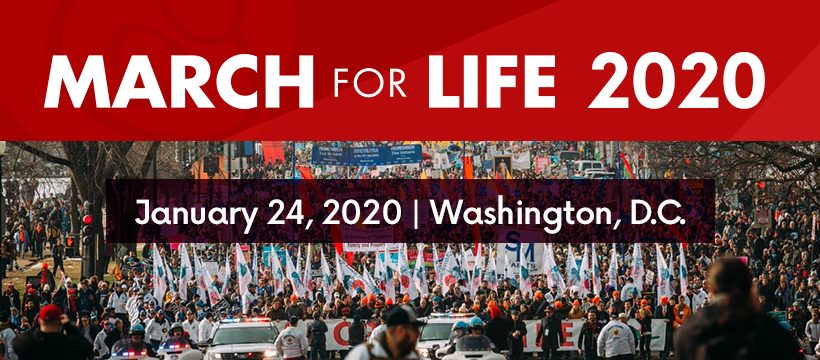 47th Annual March for Life
Friday, January 24, 2020
National Mall – 12th St., Washington, D.C
Receive an indulgence by attending the March for Life - Click here for details.  Read the Decree on this page under the word Resources.
Bus Trip Information
Assumption BVM, Bethlehem (ABVM) and St. Joseph, Coopersburg
Departs ABVM 7 a.m. (arrive at 6:45 a.m.), will arrive at National Mall in Washington, D.C. 11 a.m., will not stop for lunch, please pack a bag lunch, departing at 3 p.m., will stop at food court on way home, return to ABVM around 8:30-9 p.m., $10 per person.
Contact Lisa Temple at lisa_temple3@yahoo.com or 281-507-8912. Teens are welcome; vetted chaperones will be available; contact Lisa Temple for parental release forms.
Immaculate Conception BVM, Douglassville (ICC) and St. Ignatius Loyola, Sinking Spring.
Mass at ICC 7 a.m., bus pickup at ICC 8 a.m./Mass at St. Ignatius 8 a.m., bus departs for St. Ignatius 8:15 a.m., bus pickup at St. Ignatius
and depart for Washington 8:30 a.m., bus departs home from Union Station 5 p.m., returns to St. Ignatius 8:30 p.m., returns to ICC 9 p.m., adults $32, youth $16. Contact Angela Peterson at 610-582-6993 or icc_march4life@windstream.net.
Our Lady of Perpetual Help (OLPH), Bethlehem and St. Thomas More (STM), Allentown
Bus will leave OLPH parking lot 7:30am, stop at STM to pick up other passengers and arrive back around 9 p.m., $20 per adult, $10 per student.
Contact Tony Saldutti at 610-533-2711 or tsaldutti99@gmail.com.
Pennsylvanians for Human Life
Bus stopping in Hazleton and McAdoo areas.  Contact Maryann Lawhon at 570-764-5428.
Sacred Heart of Jesus, Bath
Bus leaving parish at 117 Washington St. at 7 a.m. and returning around 8:30 p.m., adults $20, children $10, no more than $30 per family.  Contact Karen Brynildsen at 610-762-2122 or nanny bepop@ptd.net.
St. Ambrose, Schuylkill Haven
Bus leaves St. Ambrose, Schuylkill Haven, 7 a.m. returning about 10 p.m. COST is $25 for adults; $15 youth.  For further information or to register call St. Ambrose rectory at 570-385-1031.
St. Columbkill, Boyertown
Preceded by Mass for the Unborn at St. Columbkill, 6:30 a.m. before boarding the bus at 7:15 a.m., return time approximately 10
p.m., $50 for adults, $25 for students, also includes morning refreshments and dinner. Wear comfortable walking shoes and bring a bag lunch.
Contact Candee Holzman at 484-431-2085, or www.stcolumbkill.org/ or call the church office at 610-367-2371. If you cannot attend but would like to sponsor a seat for someone else to do so, financial blessings are welcome. Prayers for the unborn and for our pilgrims are
also appreciated.
St. Jane Frances de Chantal, Easton Sponsored for St. Jane by Knights of Columbus Council 345
$10 per person, $20 per family. Contact Sue Stigliano at 610-253-0510.
St. Joseph, Summit Hill
Departing from Shrine of St. Therese, 1 E. Garibaldi Ave., Nesquehoning6 a.m., returning approximately 9:30 p.m., $40 per person. To register, call 570-645-2664 ext. 1. Questions can be directed to Father Allen Hoffa at frhoffasjpv@gmail.com or 570-645-2664 ext. 4.
St. Joseph the Worker, Orefield
Leaves church parking lot after 6:30 a.m. Mass, return approximately 8 p.m., $10 per person, donations appreciated. Contact Sue Mueller at suemuel- ler45@gmail.com or 610-392-2957.
Schedule
January 24, 2020
11:00 a.m. – 11:45 a.m. Musical opening
12:00 p.m. Rally Program
1:00 p.m. March up Constitution Avenue to Supreme Court and Capitol Building
 
You formed my inmost being; you knit me in my mother's womb. I praise you, because I am wonderfully made; wonderful are your works! My very self you know. -Psalm 139:13-14
---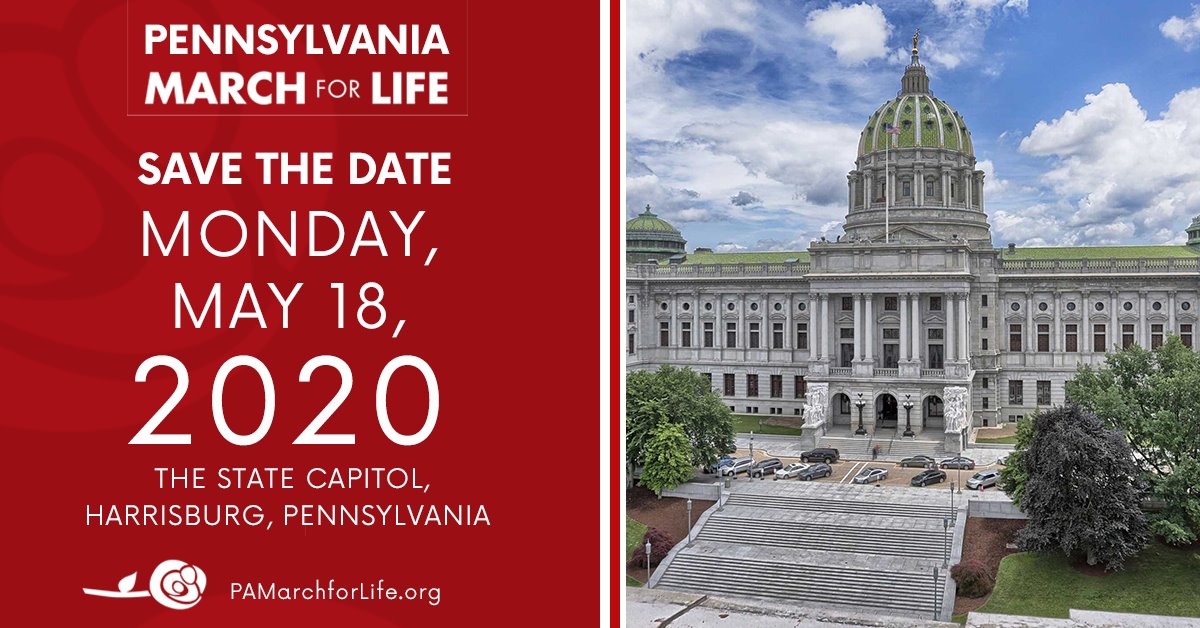 Join Pennsylvania Family Council, Pennsylvania Catholic Conference, and March for Life Education and Defense Fund at the Pennsylvania March for Life on Monday, May 18, 2020.