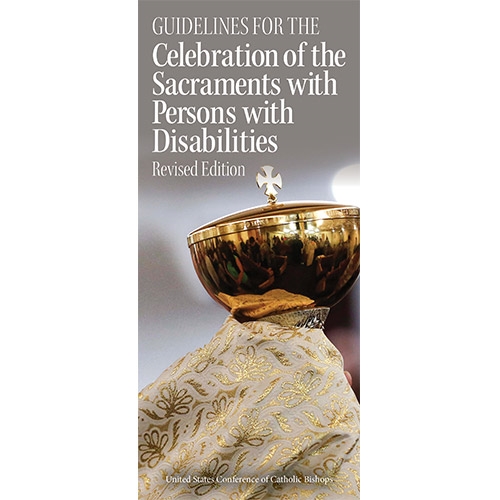 Kennedy Curriculum
The Rose Fitzgerald Kennedy Program to Improve Catholic Religious Education for Children and Adults with Intellectual Disabilities. 1-877-275-4725.
Student Activity Books are also available at different levels
STARSS
Symbols Teach And Reveal Sacred In Secular. A Creative Symbols Workbook of the Rose Fitzgerald Kennedy Program. Call Office for Ministry with Persons with Disabilities for information 610-289-8900 X 2280.
Mass a Guide for Visual Learners
A booklet that goes through the Mass especially designed for children with Autism Spectrum Disorder or children who are visual learners. Faith Publishing Service, Lansing MI, 48906, 517-853-7600 or www.faithmag.com
This Is My Church
A power point template of a church tour that you may inset digital photos of your own church to share with your child(ren) to become familiar with it. Contact: Department for Pastoral Ministry with Person with Disabilities, Archdiocese of Newark. 973-497-4309 or masteran@rcan.org
Welcome One, Welcome All
Inclusive Religious Education Resource Binder, Network of Inclusive Catholic Educators (NICE), University of Dayton, Ohio 1-888-532-3389 or www.udayton.edu/~ipi/nice
Textbooks that can be used as supplemental materials
Network of Inclusive Catholic Educators (NICE), University of Dayton, Ohio, 1-888-532-3389 or www.udayton.edu/~ipi/nice
Apostles Creed
Who Is Mary
The Sacraments
Bible Stories
The Beatitudes
The Saints
New Life
Prayer
Blessings
The Rosary
The Sacraments
disAbility Awareness
Activities for Children, Teens and Families by Joann E. Davis. The book offers children at home or in a classroom setting an Understanding of what persons with disabilities go through everyday. Over 50 pages of mazes, puzzles, coloring sheets, beatitudes of acceptance, Saints with disabilities, Braille, signing pages, and more. Joannedavis22@hotmail.com or 1-517-787-1189.
Picture Books published by Diocese of Pittsburgh and distributed by RCL-Benziger
www.rcbenziger.com or 1-877-275-4725.
My Church: A young girl shares her Catholic Deaf Community
Created in God's Image: A Photo-essay on Faith, Family, and Friendship
Seeing Through God's Eyes
Just Like Me
We Go To Mass (geared for children with autism).
One Flock, One Shepherd: A Collection of Prayers by Parents of Children Who Are Disabled
Catholic Prayers in American Sign Language
Deaf Apostolate, Archdiocese of Philadelphia, pcpddeaf@adphila.org, 215-587-3913.
Liturgical Signs & Prayers
A Resource for Deaf Ministries (video) produced by the Deaf Ministry Offices of the Archdiocese of Washington and Baltimore, 2008. Available from the Center for Deaf Ministries, Archdiocese of Washington, 301-459-7464, adwterprequest@aol.com or Deaf Ministries for the Archdiocese of Baltimore, 410-347-0704, ecolarusso@archbalt.org.