Becoming Men of Truth
Speakers: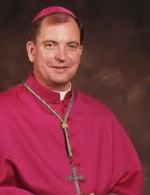 Bishop Barres was born on September 20, 1960, and is a native of Larchmont, New York. His parents, Oliver (a native of Bethlehem, PA) and Marjorie (Catchpole) Barres, were Protestant ministers who met each other at the Yale Divinity School, and subsequently converted to Catholicism, entering the Catholic Church in 1955. The story of their conversion is told in Oliver Barres' book, One Shepherd, One Flock, published by Sheed and Ward in 1955 and again in 2000 by Catholic Answers (with forewords by Avery Cardinal Dulles and Fr. Benedict Groeschel). Bishop Barres is the fifth of six children and has seven nephews and four nieces.
Bishop Barres is a graduate of Princeton University (BA in English Literature), where he played three years of junior varsity basketball during the Coach Peter Carril era, and the New York University Graduate School of Business Administration (MBA in Management). His theological education includes an STB and an STL in Systematic Theology from the Catholic University of America (where he received seminary formation at Theological College), and a JCL in Canon Law and an STD in Spiritual theology from the Pontifical University of the Holy Cross in Rome.
Bishop Barres was baptized by Bishop Fulton Sheen in 1960 while his father was working for the Bishop at the Propagation of the Faith in New York City. He was ordained a priest of the Diocese of Wilmington on October 21, 1989, by Bishop Robert Mulvee. He began his priesthood as an associate pastor at churches in Newark and Wilmington. After further study in Rome he served as Vice-Chancellor and then Chancellor of the Wilmington Diocese.
Pope John Paul II named him a "Chaplain to His Holiness" in July 2000 with the title of "Monsignor." Pope Benedict XVI named him a "Prelate of Honor" in November 2005.
Bishop Barres was ordained a Bishop and installed as the fourth Bishop of Allentown by His Eminence, Justin Cardinal Rigali, Archbishop of Philadelphia at the Cathedral of Saint Catharine of Siena in Allentown on July 30, 2009.
He was the first priest ever ordained a bishop within the Diocese of Allentown.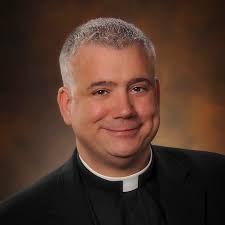 A speaker, preacher, retreat master, and author, Fr. Larry Richards speaks from experience as a pastor of an inner city parish, a high school chaplain, a counselor and evangelist. Father Larry has directed hundreds of retreats, parish missions, and conferences for young and old alike. His inspirational talks, presentations, and books always authentic and enthusiastic, have changed the hearts, minds and lives of millions of listeners and readers worldwide.
Father Larry was born in Pittsburgh. After high school, he attended the college seminary at Gannon University and received his Bachelor of Science degree in Mental Health in 1983. Father continued his studies at the major seminary at St. Vincent in Latrobe, Pennsylvania, and received his Masters of Divinity degree in 1987. He will soon conclude his studies at the University of Notre Dame and be awarded a Master of Arts degree in Liturgy.
Ordained to the priesthood in 1989 for the Diocese of Erie, Father Larry serves as pastor of St. Joseph Church/Bread of Life Community in Erie.
Father Larry is the founder and president of The Reason for our Hope Foundation, a non-profit organization dedicated to 'spreading the Good News' by educating others about Jesus Christ.
Father Larry's first book, "Be a Man! Becoming the Man God Created You To Be" was published in 2009. His second book, "Surrender! The Life Changing Power of Doing God's Will" was published in 2011. Father Larry challenges men to let go of attachments, assumptions, and excuses that hold them back from giving yourself more fully to God, in order to receive everything God wants to give you.

Allen Zelno hails from Scranton, Pennsylvania, and currently serves as the Director of Evangelization for The King's Men. Allen oversees all existing and new start-up formation and activism group initiatives.
He previously served as a parish Coordinator of Youth Ministry in the Archdiocese of Phoenix.
He holds Bachelors degrees in Political Science and Theology from the University of Scranton.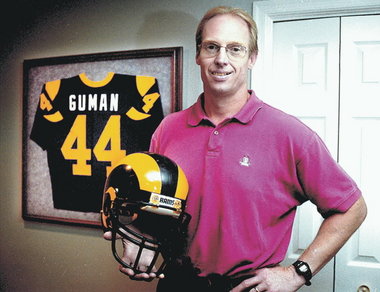 Born in Bethlehem, Pennsylvania, Mike Guman was a star running back at Bethlehem Catholic High School. He continued his career at Penn State where he was named an All-American running back. Drafted by the defending NFC Champion Los Angeles Rams, his best season was 1981, during which he rushed for over 400 yards, scoring 4 touchdowns, and making 18 catches for 130 yards.
Currently he is a Vice-President for Oppenheimer Funds. Mike and his family are members of St. Thomas More Parish in Allentown.