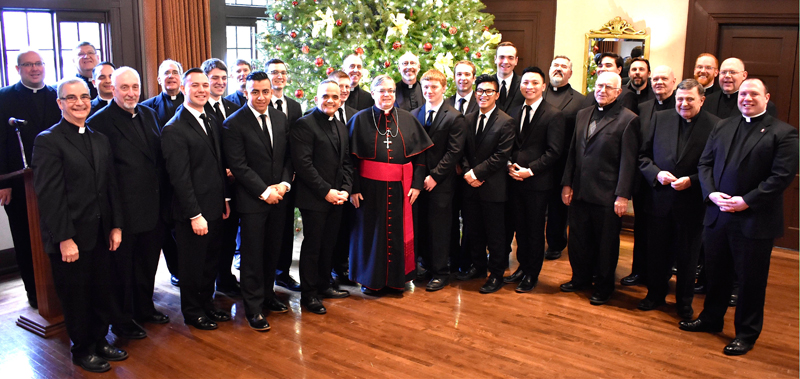 Seminarians with Bishop Schlert, center, and priests who are seminarian pastors and members of the Commission for Orders and Ministries, from left: Father Eugene Ritz; Father Anthony Mongiello; Father Donald Cieniewicz; Father Keith Mathur; Monsignor Joseph DeSantis; Father David Loeper; Philip Maas; Keaton Eidle; Father Frank Natale, M.S.C.; Miguel Ramirez; Robert Rienzo; Deacon Juan Eduardo Rodriguez; Tyler Loch; Father Michael Mullins; Monsignor Thomas Orsulak; Kolbe Eidle; Aaron Scheidel; Anh Do Mai; Matthew Kuna; James Hy Ngô; Father Thomas Bortz; Alexander Brown; Monsignor John Grabish; Father Adam Sedar; Monsignor Daniel Yenushosky; Monsignor John Murphy; Father Mark Searles, director of vocations promotion; Monsignor David James, vicar general; and Father Christopher Butera, director of seminarian formation. (Photos by John Simitz)
Seminarians of the Diocese of Allentown gathered Dec. 27 at Lehigh Country Club for the annual Seminarian Christmas Luncheon, with Bishop Alfred Schlert, the seminarians' pastors, and members of the Diocesan Commission for Orders and Ministries
Bishop Schlert welcomed the opportunity to spend some time with the seminarians during the season of Christ's birth, and thank them for their willingness to answer God's call to serve his Church as priests.
He also encouraged them to continue to support one another, and to continue to focus their time in seminary to pray, study and discern.
"Now in my fifth year of formation for the priesthood, I continue to wonder at God's great providence," said seminarian Philip Maas.
"Throughout my journey, he has put so many wonderful priests and seminarians in my life who have inspired and challenged me to grow in holiness and knowledge of Christ. I'm especially humbled to be studying alongside such fine men from the Diocese of Allentown."
New seminarian Kolbe Eidle commented, "I have always felt the call to the priesthood since I was very little.
This has been further reinforced by the examples of the many great priests who I have been in contact with.
"I have also been blessed with the constant support of my family and friends. These have all been so instrumental in helping form and strengthen me as I discern my vocation further at St. Charles [Borromeo Seminary, Philadelphia]."
Another new seminarian, James Hy Ngô, noted his "vocation journey is a journey with abundant blessings from God."
"In every single moment," he said, "I experience many different aspects of God's love. Learning from priests, my professors, my fellow seminarians and every person who God sends to my life, I grow day by day and get ready to introduce God and his love to people."