By PAUL WIRTH Diocesan Communications Staff
Eugenio Melendez is on a mission to increase participation in the Holy Name Societies in the Diocese of Allentown.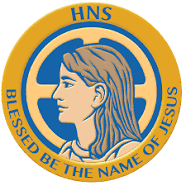 The Holy Name Society promotes devotion and reverence to the Holy Name of God and Jesus, and helps members grow in holiness and obtain their personal salvation, said Melendez, who is president of the "Diocesan Union," which represents all parish Holy Name Societies.
Those active in the Holy Name Society in their parishes often perform Corporal and Spiritual Works of Mercy as a way to live out their faith.
Spiritual Moderator for the Holy Name Societies in parishes of the Diocese is Father Paul Rothermel, pastor of Most Blessed Trinity Parish, Tremont.
"The Holy Name Society has a long and venerable history, all the way back to the Middle Ages," said Father Rothermel. "I would encourage the activities of this ancient and world-wide society in any Catholic parish."
At Most Blessed Trinity, members of the society are building a prayer grotto, and they also recently helped at a pig roast sponsored by the Parish Guild. These projects help members build stronger social bonds and allow them to reap the spiritual benefits that come from those bonds, Father Rothermel said.
Melendez says about 20 parishes in the Diocese have Holy Name Societies. Anyone who is interested in establishing a Holy Name Society at their parish, or anyone who wants to join the society, may contact Melendez by e-mail at Capt.Mel@verizon.net.
"Because We Are Catholic" tells the stories of how the people of the Diocese of Allentown make a difference in the lives of others, bringing the Light of Christ to each other and to our community.