Theology on Tap is a speaker series for young adults on matters of the Catholic faith.  Young Adults gather together in a relaxed setting either in a restaurant or bar to enjoy the speaker's presentation, learn more about their faith, and to engage in meaningful conversation.  Theology on Tap is held on the third Monday of every month at various establishments around the Diocese.
There is no cost to attend or to register!  Participants are welcome to purchase food and beverage from the menu.  
UPCOMING EVENTS
Finding God in a Broken World
Join us for an engaging discussion on how one law enforcement officer found peace, healing, and meaning amidst both personal and professional encounters with suffering. Join us Monday, March 19 from 7:00 to 9:00 PM at Hops at the Paddock (1945 Columbia St., Allentown). Event is free of charge. Food and beverage can be ordered from the menu. For more information contact Alexa Doncsecz at adoncsecz@allentowndiocese.org.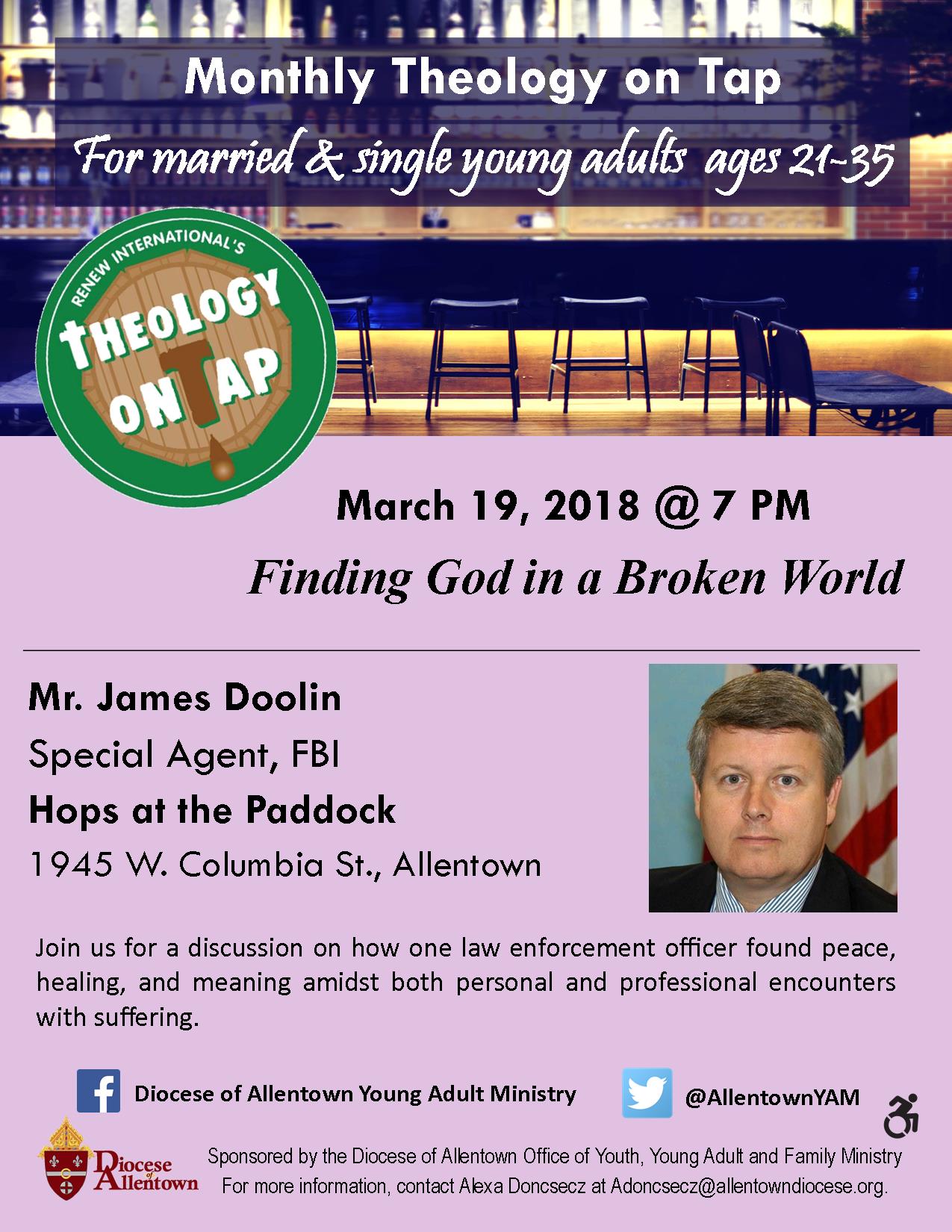 COVERAGE FROM PREVIOUS THEOLOGY ON TAP EVENTS:
February 2018 - Protecting the Pope - Rev. Frederick Riegler

January 2018 - The Catholicism of J.R.R. Tolkien - Rev. Christopher Landis

November 2017 - Working Beside a Saint: Stories of St. Teresa of Calcutta - Msgr. Michael Mannion

October 2017 - You Are Littler: Encounters with St. John Paul II - Maria Mitchell 

September 2017 - Faith on the Job: Maintaining Values in the Workplace - Bob Wert

August 2017 - Faith on the Job: Maintaining Values in the Workplace - Mike Guman

July 2017 - Faith on the Job: Maintaining Values in the Workplace - Deacon Hugh Carlin

June 2017 - Faith on the Job: Maintaining Values in the Workplace - Joseph Zator