Theology on Tap is a speaker series for young adults on matters of the Catholic faith.  Young Adults gather together in a relaxed setting either in a restaurant or bar to enjoy the speaker's presentation, learn more about their faith, and to engage in meaningful conversation.  Theology on Tap is held on the third Monday of every month at various establishments around the Diocese.
There is no cost to attend or to register!  Participants are welcome to purchase food and beverage from the menu.  

UPCOMING EVENTS
The Catholicism of J.R.R. Tolkien - Lehigh Valley, January 2018
Many know of the English author J.R.R. Tolkien for his famous works of fantasy such as The Hobbit and The Lord of the Rings. Throughout his long life, Tolkien remained devoted to his Catholic faith, and his beliefs are often reflected in his work. Rev. Christopher Landis, a priest of the Archdiocese of Philadelphia, will discuss the Catholic roots of Tolkien's life and literature at our next Theology on Tap event, "The Catholicism of J.R.R. Tolkien," which will be held Monday, January 22 from 7:00 to 9:00 PM at Bar Louie in the Promenade Shops (2960 Center Valley Pkwy., Center Valley). Event is free of charge. Food and beverage can be ordered from the menu. For more information contact Alexa Doncsecz, adoncsecz@allentowndiocese.org.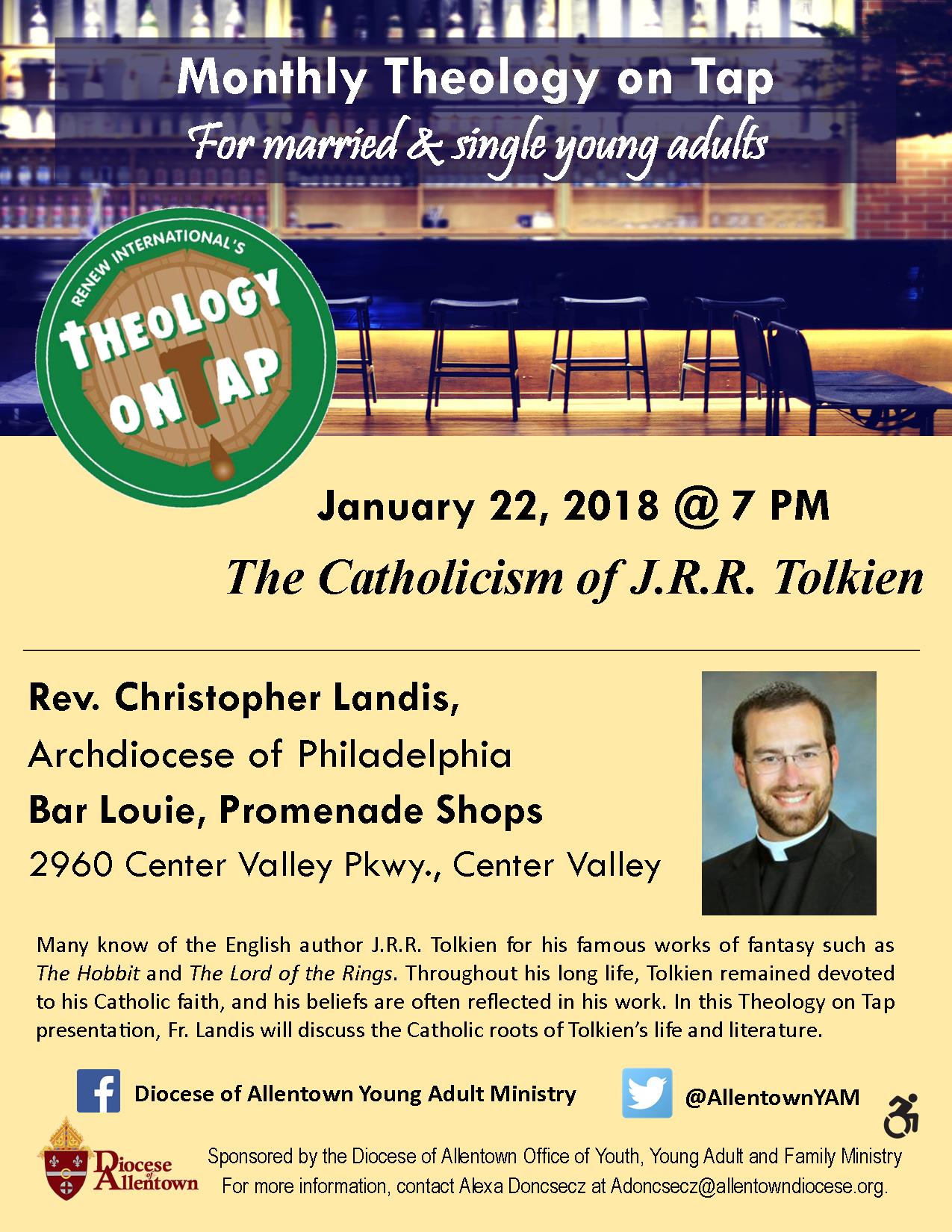 COVERAGE FROM PREVIOUS THEOLOGY ON TAP EVENTS:
November 2017 - Working Beside a Saint - Msgr. Michael Mannion

October 2017 - You Are Littler: Encounters with St. John Paul II - Maria Mitchell 
September 2017 - Faith on the Job: Maintaining Values in the Workplace - Bob Wert
August 2017 - Faith on the Job: Maintaining Values in the Workplace - Mike Guman
July 2017 - Faith on the Job: Maintaining Values in the Workplace - Deacon Hugh Carlin
June 2017 - Faith on the Job: Maintaining Values in the Workplace - Joseph Zator