By TAMI QUIGLEY Staff writer
A celebration of faith and learning was the focus of the Bishop's Catholic Scholar Society Awards Ceremony, which honored some of the diocese's brightest school stars April 29 at Berks Catholic High School (BCHS), Reading.
For the fifth year the event – which drew more than 480 people – included the Bishop's Distinguished Catholic Alumni Award.
Msgr. Alfred Schlert, administrator of the Diocese of Allentown, awarded $142,000 in scholarships to diocesan students during the morning ceremony.
Msgr. Schlert welcomed everyone and thanked them for their dedication to Catholic education, and thanked all those who make these scholarships possible through the Bishop's Annual Appeal (BAA),
The scholarships are available through the generosity of the people of the Diocese of Allentown who fund the scholarships through BAA.
Msgr. Schlert presented 133 eighth grade students from Catholic elementary schools in the diocese and one student from each of the three special learning centers with $1,000 scholarships to one of the diocesan high schools or special learning centers.
The scholarship recipients were selected based on their academic achievement; their school, parish and community activities; their leadership roles; and recommendations from their principal, an eighth grade teacher and their pastor.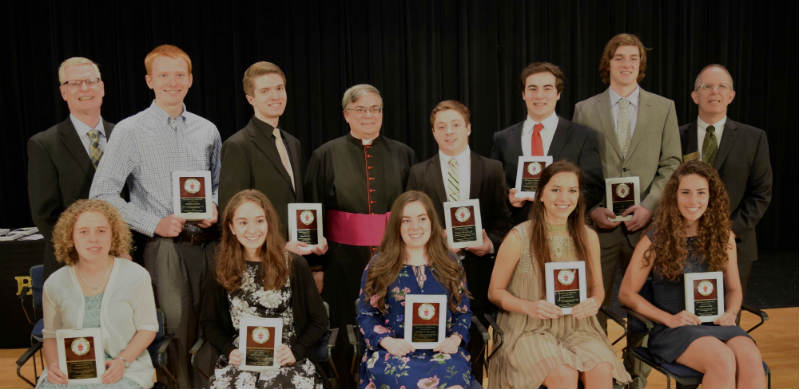 He also presented 12 high school seniors – one boy and one girl from each of the six diocesan high schools – with $500 scholarships for post-secondary education and plaques declaring them Bishop's Catholic Scholars. The students were chosen based on their academics, school involvement, Catholic faith and community service.
Mike Reinert of WFMZ-TV69 Berks Edition was master of ceremonies. Father Eugene Ritz, chaplain of BCHS, offered the opening prayer. Tony Balistrere, principal of BCHS, welcomed those gathered.
Offering remarks were Paul Acampora, secretary of the diocesan Secretariat for Stewardship and Development and executive director of BAA; and Dr. Philip Fromuth, superintendent of the diocesan Office of Catholic Education.
"Today is a very special day, as we gather from the five counties of the diocese to recognize the outstanding Catholc school students of our diocese and our distinguished Catholic alumni," Fromuth said.
Fromuth said it was a proud day for the Diocese of Allentown and for the scholar's families. "You should be commended on your choice in providing a Catholic education for your child."
The band of Berks Catholic High School (BCHS), Reading, directed by Kate Bobb, played the National Anthem and provided entertainment. The BCHS Chorus, also directed by Bobb, sang the national anthem.
A brief reception concluded the event.
This year's Bishop's Catholic Scholars are: Margaret Fleck and Andrew Johnson, Allentown Central Catholic High School (ACCHS); Marissa Avadanian and Ryan Wentzel, Berks Catholic High School (BCHS), Reading; Kevin Michels and Rachel Tanzcos, Bethlehem Catholic High School (Becahi); Frank Blozusky and Kathleen Blozusky, Marian High School, Tamaqua; Chloe Prezelski and Nicholas Quinn, Nativity BVM High School, Pottsville; and Catherine Kelly and John Connor Nesbitt, Notre Dame High School (NDHS), Easton.
Scholars from the special learning centers are: Grant Grauf, John Paul II Center for Special Learning, Shillington; Matthew Morris, Mercy School for Special Learning, Allentown; and Daniel Nunez, St. Joseph Center for Special Learning, Pottsville.
Catholic high school scholars from ACCHS are: Dylan Alvarez, Therese Bajo, Daniela Collins, Colette Cragin, Sarah Fenstermacher, David Fleck, Liam Gibson, Pamela Gonzalez, Matthew Hetten, Emily Jobes, Laura Kidd, David Kreidler, Luke Kuklis, Nathan Landivar, Emmanuel Matos, Ashleigh Meskill, Gwendolyn Minogue, Emma Ossiander, Marko Popovic, Sylvia Sarnitsky, Tyler Schifko, Olivia Seaman, Luke Thomas Sedlack, Julia Vargo and Julia Vicario.
From BCHS: Abigail Kathleen Atkins, Jacklyn Chonta, Gina Coccia, Haley Davis, Chet DePue, Madison Rose Femino, Abigail Faith Franey, Mariella Frisina, Olivia Geishauser, William Gray, Alexa Herbein, Kelly Kline, Lindsey Kroenig, Gabriella Kurtas, Mark McFadden, Fay Moser, Vivian Nguyen, Sarah Painton, Mackenzie Leigh Partsch, Michelle Roman, Perla Solis-Ruiz, James Stelluti, Sidney Wolf, Yamileth Zamora and Pablo Zavala.
From Becahi: Lauren Elizabeth Alia, Christina Amrick, Corinne Anderko, Marcela Banuelos, Hunter Cantwell, Owen Fitzgerald, Cole Hershman, Samantha Hoffman, Thanh Huyoh, Isabella JeBran, Sarah Knoble, Hailey Kroschwitz, Ashley La Cava, Jack McIntyre, Angelina Mills Mendez, Nicole Moussa, Brandon Panuccio, Katherine Rompilla, Catherine Scheidel, Alexa Schoenfield, Taylor Teles, Michael Trilli, Michael Vasquez, Mia Villafane and Sean Walshe.
From Marian: Dante Agosti, Benjamin Alec Artz, Karina Barcenas, Owen Brady, Haley Curnow, Kaitlyn Doyle, Rebecca Dzuranin, Emily Rebecca Haas, Charizma Hiles, Emily Anne Kayes, John Patrick Malarkey, Mackenzie McAndrew, Jacalyn Possessky, Stephen Puza, Corey Rehnert, Christina Walko, Jamison Wheeler and Tatianna Zeleniak.
From Nativity: Ryan Allar, Makenna Burke, Cooper Nash Chiplonia, Connor Denion, Bryonna Dexter, Samantha Heenan, Camillia Koury, Livia Lieberman, Luke Messina, Ethan Daniel Meyer, Matthew O, Rylee Rapali, Dylan Schreffler, Samuel Sterns, Nathan Geroge Tropp, Andrea Vaupel and Abigaile Yourey.
From NDHS: Jude Bislig, Grace Boburka, Talia Collina, Theresa Crimi, Laura Dainauski, Peyton Dally, Lauren Dicker, Declan Fitzgerald, Caitlyn Frederick, Gianna Lagomarsino, C. Dane Lomax, Grace Medei, Benjamin Morris, Carley Passenti, Bridget Pavelko, Mark Petrick, Nicholas Principato, Thomas Purcell, Ethan Leonard Riddle, Maya Santos, Bridget Shields, Cody Smith and Robert Spirk.
Distinguished Catholic alumni recognized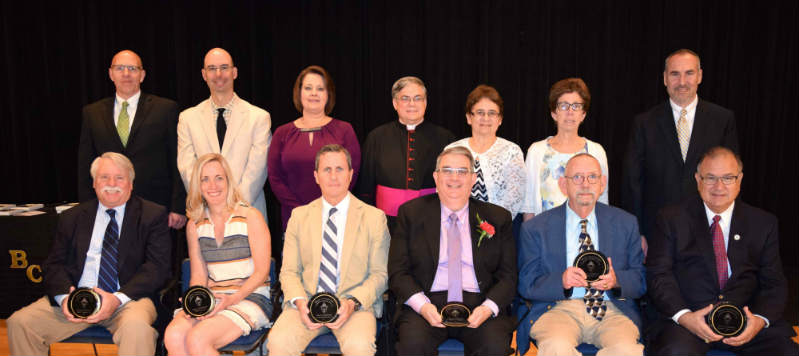 The Distinguished Catholic Alumni Awards were presented to recognize alumni, chosen by the schools, who have achieved outstanding success in their fields, and are practicing Catholics and role models for today's student scholars.
The honorees are: Joseph Topper, Allentown Central Catholic High School (ACCHS), class of 1973; Natalie Parisi, graduate of the former Holy Name High School, Reading, class of 1985, being honored by Berks Catholic High School (BCHS), Reading; Lt. Col. Patrick Dundon, Bethlehem Catholic High School (Becahi), class of 1985; and Dr. Richard O'Donnell, Marian High School, Tamaqua, class of 1981.
Also, Edward Tray, Nativity BVM High School, Pottsville, class of 1965; and Mayor Salvatore Panto Jr., Notre Dame High School, Easton, class of 1969.
Joseph Topper
Joseph Topper is a graduate of the ACCHS class of 1973 and is a parishioner of Assumption BVM, Bethlehem. He is a certified public accountant and has 26 years of management experience in the wholesale and retail fuel distribution business. He serves on the board of directors of CST Brands, Inc.; the board of trustees for Villanova University, Philadelphia; and the board of directors of Lehigh Valley PBS.
Topper holds a master's degree in business administration from Lehigh University, Bethlehem and a bachelor of science degree in accounting from Villanova University. His career reflects his dedication and commitment to serving others. Not only is Topper an alumni, but he and his wife Maureen chose ACCHS for their children as well.
Topper has always been loyal to his alma mater and continually gives of both his talent and treasure in helping educate young men and women of faith.
Natalie Parisi
Natalie Parisi is a 1985 graduate of the former Holy Name High School and a parishioner of Sacred Heart, West Reading. She was the first female dental specialist in Berks County when she started practicing at ROG orthodontics. She is an international speaker and published author on the specialty of orthodontics, as well as an adjunct professor of orthodontics at Temple University, Philadelphia.
Parisi is a member of the American Dental Association and the American Association of Orthodontists, where she has served on several committees.
For Parisi, Catholic education at Sacred Heart School, Holy Name High School and Villanova University has engrained an attitude of teamwork, sharing successes and failures, and most of all being grateful for her journey.
Parisi remains steadfast in her support of Catholic education in Berks County, particularly her alma maters, and has served on the board of directors of BCHS since 2011. Through her hard work, dedication and financial support, she continues to give back to the schools where she and her seven siblings attended.
Lt. Col. Patrick Dundon
Lt. Col. Patrick Dundon, a 1985 graduate of Becahi, is a parishioner of Our Lady of Perpetual Help, Bethlehem, and has been actively serving in the U.S. Army Special Forces for the past 25 years. He has been honored with four bronze star medals for combat operations in Afghanistan and Iraq.
He was a distinguished military graduate from Duquesne University, Pittsburgh and earned a master's degree in international relations from the University of San Diego, California.
Lt. Col. Dundon often shares that it was a privilege to have been a student at Becahi and was the reason why he and his wife sent their two daughters to Becahi – so that they could receive the same quality education that he had received.
In addition to serving his country, Lt. Col. Dundon and his family have given back to the Catholic community for years. Becahi believes Lt. Col. Dundon exemplifies what a Becahi alumnus and Our Lady of Perpetual Help parish member truly is … an incredible Catholic role model.
Dr. Richard O'Donnell
Dr. Richard O'Donnell is a 1981 graduate of Marian High School and resides in Walnut Creek, California with his wife Ann Marie and their 10-year-old son, Richard Jr. They are members of St. Isidore the Farmer Parish in Danville, as well as St. Mary, Star of the Sea Mission Parish in Gualala in Santa Rosa, California.
After receiving undergraduate and medical degrees from Harvard, Dr. O'Donnell completed a general surgery internship at the New England Deaconess Hospital. He graduated from the Harvard Combined Orthopedic Residency Training Program in Boston and the Musculoskeletal Oncology Fellowship Program at the University of Washington in Seattle.
He joined the University of California San Francisco Medical Center faculty in 1998, where he is a professor of clinical orthopaedic surgery. He is chief of the orthopaedic oncology service and co-director of the Sarcoma Program. He is the founder of several surgical societies and serves under the auspices of the American Red Cross at the Walter Reed National Military Medical Center.
O'Donnell specializes in the treatment of children and adults with soft tissue tumors and tumor-like conditions, and has authored more than 75 peer-reviewed scientific publications.
Edward Tray
Edward Tray is a 1965 graduate of Nativity BVM High School. He is a retired teacher and serves as an ambassador for the Middle States Association. He received his bachelor of arts degree in English from Allentown College of St. Francis de Sales (now DeSales University), Center Valley, in 1969.
Tray's entire life has been dedicated to Catholic education. He taught at the former St. Stephen School, Port Carbon for 43 years and then part time at Nativity for five years. He is actively involved in his parish, St. Stephen, Port Carbon as a lector, Eucharistic minister and altar server coordinator.
His work with the CYO program, locally and at the diocesan level, is unmatched, having served for over 40 years in many different capacities. Tray has dedicated his life to helping young men and women become productive, compassionate and well-rounded members of society. His unwavering dedication and commitment to doing what is right has been an example to the thousands of students whose lives he has touched.
Tray's significant accomplishments, professional and spiritual life, and community service have influenced the entire community. He truly exemplifies the ideals and spirit of Nativity.
Mayor Salvatore Panto Jr.
Mayor Salvatore Panto Jr. is a 1969 graduate of Notre Dame High School. He earned his master's degree from Lehigh University, Bethlehem and his bachelor's degree from Kutztown University. Mayor Panto and his wife Pam are parishioners of St. Anthony of Padua, Easton and the parents of four children and five grandchildren.
Mayor Panto is the city's youngest mayor and he has served the city of Easton for three terms.
He is a former history teacher and has been active and visible at Notre Dame for many years. He attends all student events, volunteers for the annual gala and promotes Notre Dame throughout Easton.
Mayor Panto carries the Notre Dame motto "Faithful, Loyal and True" in his life, as he governs the city of Easton and assists the community.