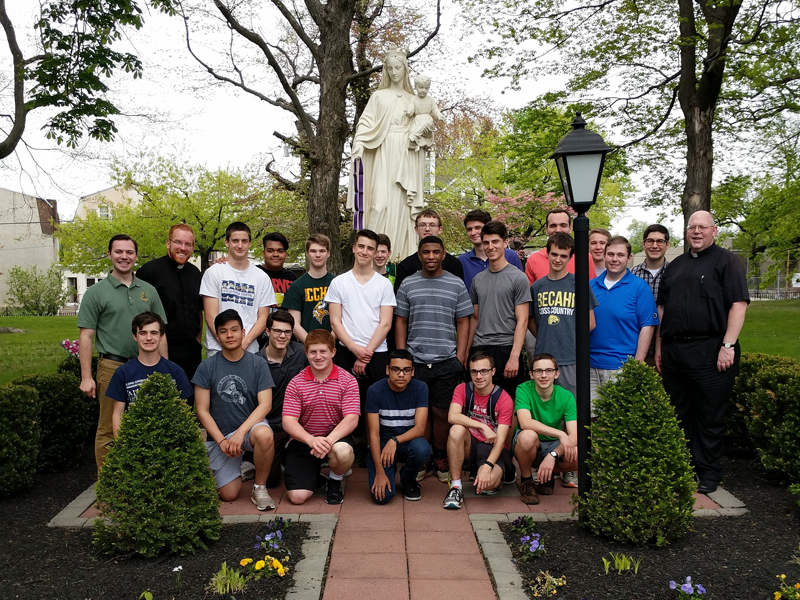 The Office for Vocations held a Come and See Weekend at Saint Charles Borromeo Seminary May 4-6. The weekend provided young men who are discerning a call to the priesthood the opportunity to stay that Saint Charles Borromeo Seminary, participate in a few Seminary functions and meet with the Allentown Seminarians.
On Saturday, May 5, the group traveled to the Miraculous Medal Shrine in the Germantown section of Philadelphia.  Before returning to the Seminary, the participants, seminarians, Father Mark Searles, new
Director of Vocation Promotion and Monsignor David James, current Director of Vocations took time for a photo in front of the statue of Mary, Queen of the Clergy.  
_____________________________________________________
Young men and teenaged boys ages 14 and over are invited to attend a weekend retreat at St. Charles Borromeo Seminary, Philadelphia, from May 4 - 6, 2018. 
The weekend includes Mass and time with our Seminarians; time for prayer, adoration and reflection; sightseeing in Philadelphia with visits to the Cathedral Basilica of Saints Peter and Paul, and the Saint John Neumann Shrine.
The registration deadline is Monday, April 30, and all paperwork must be received on this date for the registration to become "official." Registrations received after April 30 will not be accepted.
To register, please complete the registration form for your age group located under the word Resources on this page and return it to the Office of Vocations at the address listed on the form.  You will also find the schedule and general information form in the same place.
Any questions, please contact the Office of Vocations at 610-437-0755 or djames@allentowndiocese.org.