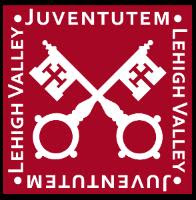 Juventutem (Latin: Fœderatio Internationalis Juventutem) is an international movement of young Roman Catholics of the ages 18 to 30 who share a love of the Extraordinary Form of the Mass. The aim of the society is to foster and strengthen relationships between these young people at the national and international levels, and to encourage and assist them in developing their faith.

Juventutem Lehigh Valley is a local chapter in the Greater Lehigh Valley region that was a established Summer 2013.
Juventutem Lehigh Valley holds Mass in the Extraordinary Form on the second Sunday of each month at 12:30 PM at Sacred Heart, Bath (210 E. Northampton St., Bath).
To receive updates from Juventutem, follow their Facebook page HERE.