The Commission for Women provides opportunities for women to become Disciples of Christ and to grow in their relationship with Jesus and with other Catholic women in our Diocese.
Advent Day of Reflection
Advent:  New Church Year, New Me
Join the women of the Diocese at a Day of Reflection hosted by the Diocesan Commission for Women! Deacon James Russo will discuss a Catholic perspective on the Charles Dickens' classic, "A Christmas Carol".
Presenter:
Deacon James Russo
Date & Time:
Saturday, December 15, 2018
9:30 AM to 2:15 PM
Price:
$20.00
Includes a light breakfast, Mass, Rosary, Liturgy of the Hours, lunch with time for fellowship
Location:
Jesuit Center for Spiritual Growth
501 N. Church Rd.
Wernersville, PA 19565-0223
Schedule:
9:30  AM  - Check-in, Refreshments
10:00 AM - Liturgy of the Hours & Rosary
10:45 AM -  Conversion of Scrooge presentation by Deacon Russo
11:45 AM - Holy Mass
12:30 PM - Lunch
1:30  PM  - Ghosts of our Past presentation by Deacon Russo
2:15  PM  - Final Blessing and departure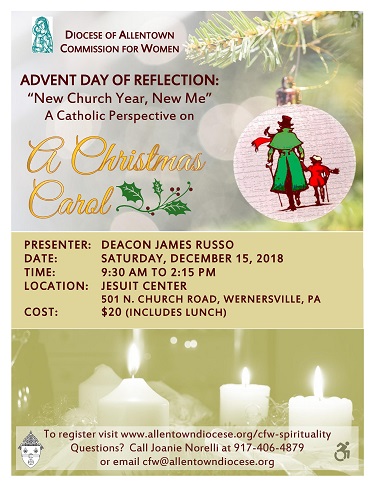 For questions, please contact Joanie Norelli at (917) 406-4879 or
Susan Teaford at (610) 207-5763 or e-mail cfw@allentowndiocese.org