The Commission for Women provides opportunities for women to become Disciples of Christ and to grow in their relationship with Jesus and with other Catholic women in our Diocese.
Commission for Women Lenten Retreat
Prepare Our Souls for our Savior Lenten Retreat
March 24, 2018
Retreat Presenter:
Rev. Allen Hoffa
Cost:
$10 per person
Date & Time:
Saturday, March 24, 2018
9:00 AM to Noon
Location
Diocesan Shrine of St. Therese of Lisieux
1 E. Garibaldi Ave
Nesquehoning, PA 18240
Schedule:
8:30   AM - Check-in begins
9:00   AM - Mass
9:30   AM - Continental Breakfast
10:00 AM - Reflection on the Blessed Mother and Mary Magdalene as portrayed in the Passion of the Christ
11:00 AM - Stations of the Cross & Benediction
12:00 PM - Dismissal
Click here to register or call Joanie Norelli at (917) 406-4879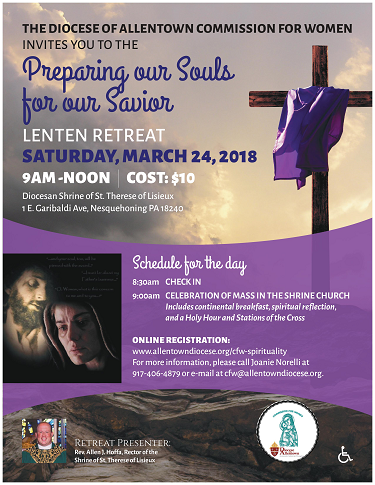 Click here to register!